With your help, we are starting to get their attention on Capitol Hill.
There are now several dozen Congressmen who have cosponsored H.R. 923, which is Rep. Marlin Stutzman's bill to enable concealed carry reciprocity from coast to coast.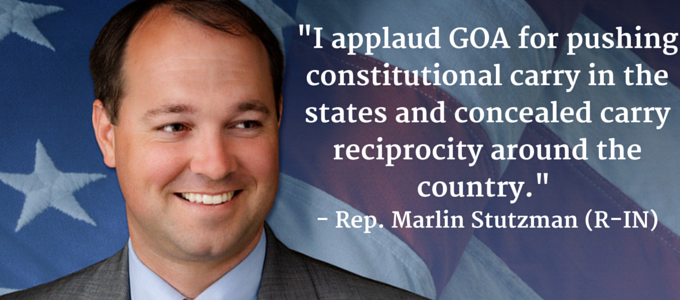 Stutzman's bill in the House — along with the companion bill in the Senate (S. 498, introduced by John Cornyn) — are the ONLY reciprocity bills in the Congress that will protect the ever-growing number of Constitutional Carry states.
Constitutional Carry enables law-abiding citizens to carry firearms concealed, without first getting a permit or being registered like sex offenders.
And while many concealed carry reciprocity bills in Congress would allow citizens to carry firearms outside of their home states, only the Stutzman-Cornyn bills enable people from permitless carry states to do so without a license.
Representatives Stutzman and Cornyn have truly captured the Second Amendment vision of the Founding Fathers.
Click on the Take Action button to urge your Representative to cosponsor H.R. 923 — the Stutzman reciprocity bill that will protect Constitutional Carry and not force gun owners to get registered like sex offenders (as other reciprocity bills would).
FK – Why do we still beg our elected public SERVANTS for our natural born RIGHTS??!!!