It's become a world-wide problem:  A university in Kenya where 147 students were recently gunned down.
A newspaper publisher in France where over 20 people were either murdered or injured.
Or the long list of schools in the United States where unarmed students and teachers alike are relegated to the status of "sitting ducks," while armed gunmen — who ignore laws banning guns — carefully and methodically execute innocent people.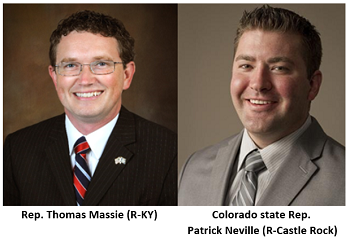 Colorado state representative Patrick Neville (R-Castle Rock) knows something about school shootings.
You see, Neville was a student at Columbine High School on April 20, 1999.  On that tragic day, two disaffected students killed 13 unarmed victims, and injured more than 20 others.
The victims included students and teachers, boys and girls, but all of them had one thing in common:  They were shot down like "sitting ducks" in a gun-free school zone — a place where teachers and staff were prohibited by law from defending their lives and the lives of their students.
Clearly, the fact that Columbine High School was a "gun-free zone" didn't mean that Columbine would be free of guns.  It only meant that the "good guys" wouldn't have guns.
FK – The 'world wide problem' is the "Liberal"(commie) trash in the government schools that keep children from learning the realities of the dangerous world we exist in.